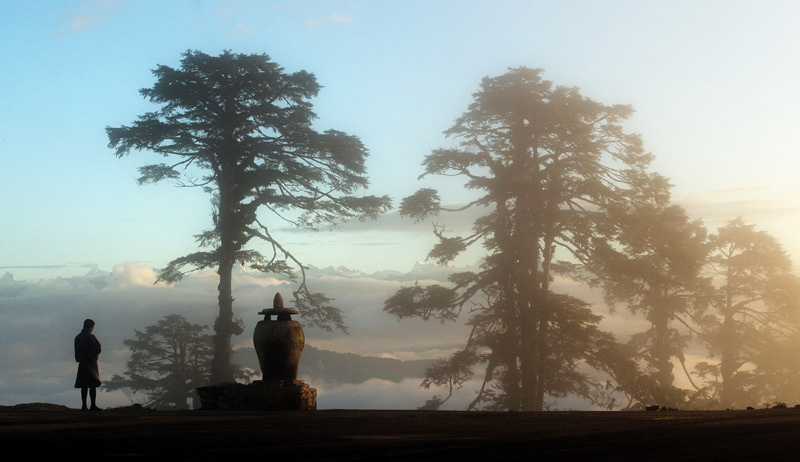 View of the Himalayas from Dochula pass early in the morning.
According to the tradition, there has to be a monk in every Bhutanese family. Apart from having electricity and running water, not much has changed in many monasteries for hundreds of years. Monastic schools also play a role of orphanages or shelters for unwanted children. 
 
Namgay is fourteen now. He dreams of becoming a teacher or Lama.
The living conditions in the three-hundred-years-old monastery are quite harsh, the humid cold gets through the glass-less windows right under their skin.
He only gets to see his family once in every three months, his home is the monastic school now.
Namgay preparing a meal for his two-year-old brother in his parents' house. For parents it is expensive to pay for school uniforms and books. When his brother is old enough, his mother will make him be monk too. 
Prayer flags in the rising sun
Dorji is thirteen. Because of the malnutrition (rice, chilli and milk or butter tea only) the monks appear to be much younger. 
Monks are making ritual objects for the Puja under the Lama's supervision.
Monks in Bhutanese monasteries only learn to write and read Buddhist manuscripts. Not much has changed in the past hundred years. 
Bath time. Water is heated up in a barrel over the fire. Much appreciated relaxing time for the little monks.
Dorji adjusting his gown on the backdrop of the mountain.
Traditional Buddhist prayer flags.
House of Jamtso's grandparents. The nearest road is ten kilometres away. 
Ex-monk Jamtso was in the monastery for four years but one year ago he left. Back in his village again, he hates to be a farmer. As a monk he never had to work manually and still feels quite superior to be required work in the field. His only possible future is going back to the monastery or becoming a soldier. 
Jamtso with his grandfather and brother in their second home far up in the forest. They share it over the summer months with their cattle.